John Smith Road Landfill operates under a permit issued by the State of California for the disposal of municipal solid waste. We are a full service solid waste disposal company.
Materials Accepted at John Smith Road Landfill:
Household Recyclables: Glass  | Plastics  | Metal | E-Waste | Learn more >>
Waste Materials: Normal Household Garbage | Non-Hazardous Commercial Waste, Farm or Agricultural Waste | Municipal Solid Waste | Construction Debris | Concrete & Asphalt | Yard Waste | Tree Branches | Non-Putresible Dry Waste | Clean Fill – Soil | Dead Animals | Non-Hazardous Industrial Waste | Waste Water Treatment Plant Sludge | Industrial Sludges | Industrial Powders | Contaminated Soil | Treated Lumber | Tires | White Goods | Learn more >>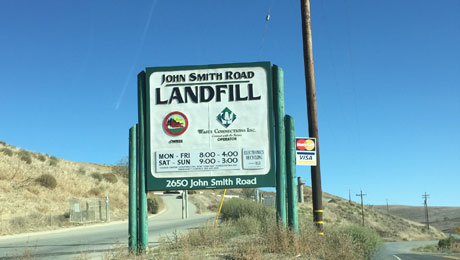 Hours of Operation:
Monday – Friday 8am – 4pm
Saturday – Sunday  9am – 3pm
Closed: New Year's Day, Easter, Thanksgiving and Christmas
Payment Types Accepted:
MasterCard, Visa, Charge accounts available. No Cash accepted.
Safety Video

John Smith Road Landfill from Blue Ridge Services on Vimeo.