We are not accepting out-of-county waste at this time. Proof of Origin required.
No aceptamos clientes fuera del condado. Identificacion requerida.
Origination of Solid Waste Document
John Smith Road Landfill operates under a permit issued by the State of California for the disposal of municipal solid waste.
We are a full service solid waste disposal company.

Materials Accepted at John Smith Road Landfill
Household Recyclables: Glass  | Plastics  | Metal | E-Waste | Learn more >> Waste Materials: Normal Household Garbage | Non-Hazardous Commercial Waste, Farm or Agricultural Waste | Municipal Solid Waste | Construction Debris | Concrete & Asphalt | Yard Waste | Tree Branches | Non-Putresible Dry Waste | Clean Fill – Soil | Dead Animals | Non-Hazardous Industrial Waste | Waste Water Treatment Plant Sludge | Industrial Sludges | Industrial Powders | Contaminated Soil | Tires | White Goods | Learn more >>
A Community Asset
Thanks to former County Supervisor and current County Business Council President, Jim Gillio and the Council's Executive Community for their work to inform our community on our Landfill, the details of our long-standing partnership with San Benito County, our value to residents and small business owners and their views of our Landfill as a vital community asset. Read the article.
Community Opinion Piece in
Benito Link
We are fortunate to serve and support our community and appreciate the efforts of former County Supervisor Mike Graves for his 12+ years of service to our community and contributing this Community Opinion piece to help ensure that our community has the facts and history on our past and opportunities to collaborate for the future. Please check out the #BenitoLink article linked below as well as the FAQs. Read the article here.
Hours of Operation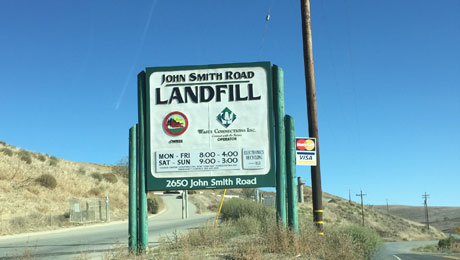 Monday – Friday 8am – 4pm
Saturday – Sunday 9am – 3pm
Closed: New Year's Day, Easter, Thanksgiving and Christmas
Payment Types Accepted:
MasterCard, Visa, Charge accounts available. No Cash accepted.
Community Involvement
John Smith Road Landfill in San Benito County has made a commitment to not only provide necessary services, but also to give back to the community we are fortunate to serve. As part of our commitment we regularly donate volunteer hours and financial assistance to local charitable and civic organizations. We are proud to partner with these organizations with the common goal of making San Benito County a better place to live. Below is a list of organizations that we currently work with. If you have suggestions for other local organizations that we could possibly partner with please contact our Site Manager at the John Smith Road Landfill, Roger Brown at roger.brown@wasteconnections.com.
YMCA of San Benito County
United Way Gala 2019
Community Food Bank of San Benito
Emmaus House
Hollister Youth Alliance
CASA of San Benito County
12 Days of Giving
Pet Friends
SBC Chamber Wreaths Across America
San Juan Bautista Rotary
Hollister Recreation
SBC Business Council
San Benito Police Activities League
We donated $1,000 to National Wreaths Across America Day
Site Manager Andrew Obertello presents $1,000 check to the San Benito Chamber of Commerce.
John Smith Road Landfill donates $5,000 to Youth Alliance. In the photo from left to right are Bea Gonzales, San Benito County Board of Supervisor, Roger Brown, John Smith Landfill's Site Manager, Diane Ortiz, Director of San Benito County Youth Alliance, Paul Nelson and David Jappert of John Smith Landfill.
John Smith Road Landfill donates proceeds from the electronics recycling program to the San Benito Food Bank.  Thank you San Benito Food Bank for all the good work you do in our community!
John Smith Landfill working with Spring Grove Kindness Club and providing lunch for Cal Fire, San Benito County. Thank you to all the heroes in our community!
John Smith Landfill providing lunch to Hollister's front line workers with the Spring Grove Kindness Club, with appreciation for all the good work they do in our community!
Donations funded by John Smith Road Landfill's Electronics Recycling Program.